The 4x4 V.2 (Variation 2)is the second variation of the combat jeep driven in N.O.V.A. 2 and N.O.V.A. 3. the main difference this jeep and the normal 4x4 is that V.2 has a rocket turret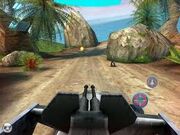 In N.O.V.A. 2, the player can only ride on the back of the 4x4 while shooting the machine gun turreted a rocket turret. In N.O.V.A. 3, Kal Wardin mans the gun and rocket turret while Rufus drives through Boreas. Earlier In the game, Kal Wardin rides in the back again as Private Chaos drives.
Ad blocker interference detected!
Wikia is a free-to-use site that makes money from advertising. We have a modified experience for viewers using ad blockers

Wikia is not accessible if you've made further modifications. Remove the custom ad blocker rule(s) and the page will load as expected.