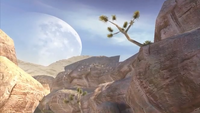 Scorpius is a desert planet with the farming colony where Kal Wardin took his second retirement directly after the Judgers incident at the end of N.O.V.A, 6 years before the beginning of N.O.V.A. 2.
He lived among the colony until 3 days before the beginning of N.O.V.A. 2, when government troops attacked the colony. The villagers that hid him on Scorpius took refuge in an ancient Judger ruin. Kal cleared the ruin and repelled the Alliance attack, then left for Sagittarius.
The "Temple" location in Multiplayer gameplay is located on this planet.
Ad blocker interference detected!
Wikia is a free-to-use site that makes money from advertising. We have a modified experience for viewers using ad blockers

Wikia is not accessible if you've made further modifications. Remove the custom ad blocker rule(s) and the page will load as expected.