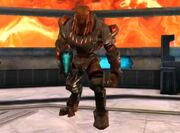 This is the first of two Judger artifacts that Kal Wardin was sent to find by Prometheus during the events of N.O.V.A. 3. It has the potential for mass destruction, and was sought after by the Volterites to create a weapon harnessing such power. It was found on the Judger ship Therrius, and was in the posession of Maz' Rah, who gave it to Kal after Kal cleared the ship of Volterites for him. In turn, this artifact was then taken by Prometheus by order of the Judgers for safekeeping.
Ad blocker interference detected!
Wikia is a free-to-use site that makes money from advertising. We have a modified experience for viewers using ad blockers

Wikia is not accessible if you've made further modifications. Remove the custom ad blocker rule(s) and the page will load as expected.